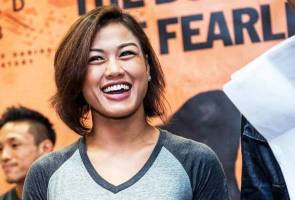 KUALA LUMPUR
: As the entire world commemorates International Women's Day on Friday, 8 March, Malaysia's women's mixed martial arts pioneer Ann "Athena" Osman expressed her delight to witness how society appreciates the vital role of women in this day and age.
"I think we can celebrate our strong will," said the 32-year-old Sabah-born athlete with pride lacing her voice.
"Women have so much grit. They push through every time. Whenever a challenge hits, they don't back down. They just keep pushing through."
"Don't you remember those times when our grandmothers, aunties, or even mothers used to go out in the early hours of the morning to toil the field, their young children in tow, sometimes perched on their hips?
"It's such an inspiring image."
International Women's Day memorializes the movement for women's rights, which began early in the 1900s.
The day was officially recognized by the United Nations in 1975 and is a national holiday in numerous countries around the world.
Mixed martial arts is one of many sports and areas of life that have been changed dramatically in recent years because of the participation of women.
Ann, who serves in ONE Championship's athlete relations department, believes that women really can do anything they set their mind to.
"Mixed martial arts is a great platform for women. It showed the world that girls can't just do ballet and tennis, we can fight, our abilities are the same as men's,"she stated.
There are many communities and societies for women out there. Ann herself is part of Lean In, a global community dedicated to helping women achieve their ambitions.
"It's really important that we're willing to share and help each other. It should never be some kind of competition or rivalry," she elaborated.
Osman shares that the jiu-jitsu community in Sabah does a lot to promote that sense of sisterhood.
"In the sport of mixed martial arts or even jiu-jitsu, there are still not many women. So those who are in it will band together," she stressed.
"We meet and train with each other, and always encourage each other to be better."
Recalling her early years, Ann confided that it was pretty tough when she started her professional career in 2013.
"I didn't know who to turn to. I mean, I had my coach (AJ Lias Mansor), but he's a guy," she disclosed.
"There were just some things you needed a fellow 'sister' for — to confide in and share your insecurities with."
Much has changed these days, according to Ann, as there are now more women competing in both sports.
"Wherever and whenever I can, I tell women that I meet in the different gyms I visit that we should get together to an open mat and cross train," she shared.
"I'm always open to guide and offer support to any woman or girl who wants to start in this fight world."