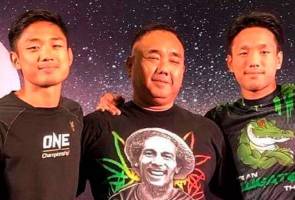 HOW does it feel like to be the parent of two great martial arts athletes? Is it hard? Were they ever naughty as a kid? Were they ever different compared to other kids?
In conjunction with Father's Day, Astro AWANI took the time to speak to Suraj Subba, or better known as Papa Subba – the father of Malaysia's famous martial arts siblings, the Subba brothers.
Having two sons choosing mixed martial arts (MMA) as their career certainly wasn't that easy for Papa Subba at first.
Nevertheless, he supported their passion.
"I supported them eventually. I would do what any parent would do — support their children's passion which turned out to be martial arts.
"I see the potential in them to succeed in what they are doing," he said the Nepalese whose wife is a Malaysian-Chinese. Suraj also has a daughter.
According to Suraj, his sons – Gianni, 26 and Keanu, 24, started learning Taekwondo when they were very young.
"They participated in a lot of tournaments, and won a lot of tournaments too. After that, they moved to other martial arts styles like Muay Thai, boxing and also Brazilian Jiu-jitsu."
Both fighters have built a solid mixed martial arts resume since their debut in ONE Championship years ago.
But Papa Subba said it wasn't an overnight thing which brought them to where they are today.
"It's their training, their sacrifice. As a father, I just supported them in what they do."
Papa Subba's children live in a healthy environment where respect and discipline were highly valued.
And as children, like any other normal, healthy children, Papa Subba admitted that his two sons do have their 'mischievous' moments.
"Kids at any age were always naughty (laughs), but never have they been disrespectful.
"Martial arts always teach you respect, discipline, loyalty, honour and brotherhood," he said.
Papa Subba has played a huge role in both Gianni and Keanu's career as a martial artist.
Whether in victory or defeat, Papa Subba is always there to support, cheer, and comfort them.
It is no wonder that the two has always decribe Papa Subba as their number one supporter and all-time hero.
After all, had it not been for their father, Malaysia's finest mixed martial arts siblings might not have been on this path towards greatness.
"You see them growing up like that, and today you see them as the same gentlemen that they are," he added.