At Hartabumi, we've successfully helped many Malaysians reach their homeownership goals. We are determined to educate the market on these pitfalls and hope that you can have a smooth end-to-end buying process by learning from past buyer mistakes. 
As with every success story, there have also been many learning lessons or should we say, regrets due to oversights in a newbie's purchase of their first home. Are you ready to learn from these mistakes?
1) Not checking your affordability & budget
Most people start shopping before even determining their budget and affordability. Let the lenders determine & calculate your budget based on your income and commitments. This will narrow and help you focus on your available house options. Also, this will also prevent you from any heartache by falling in love with properties that is out of your budget. 
2) Accepting a loan that you cannot afford. 
Lenders determine affordability based on the information listed on your credit report and your tax documentation. This is an important factor for you to determine as lenders have been known to approve applicants for a loan larger than they can afford. Please, please, please do not fall victim to this trap. 
3) Underestimating the costs of homeownership
It is easy to give in to temptation and dive into a purchase without allocating a budget for other smaller costs. Obviously, you will need to have cash in hand for the down payment. However there are other miscellaneous more specific disbursements you need to prepare for I.e.; 
10% for down payment (for 90% loan)

3-4% for lawyer fees to prepare SPA & Stamp Duty

2-3% for lawyer fees to prepare loan agreement with bank

Maintenance & Renovation costs

Monthly Utility Bills
4) Not checking your Eligibility for Government Housing Schemes
With the new government Home Ownership Campaign (HOC), there are plenty of initiatives & government schemes to aid Malaysians like yourself to own a home. Make sure you check the schemes and consider other options before succumb to the promotional loans in the market. 
Read our article on (Government Housing Schemes – Insert link) to see which schemes you are eligible for. 
5) Not checking the reception for your mobile service & Internet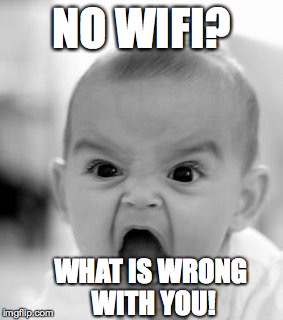 Credit:Imgflip
The farther the location from densely populated areas, there is a tendency that the mobile service may get weaker. Although you may be equipped with broadband internet at home, the 4G coverage may be compromised the moment you set foot outside the house. 
We recommend that you drive around the area and inspect the signal before you make any decisions. 
6) Not spending time in the neighbourhood during different times of the day/week
This mistake is especially true when it comes to sub-sale homes. Amongst the list of items you need to investigate include getting to know the neighbours, the environment at night, rush hour conditions, and even proximity to your conveniences & frequent destinations. 
Other long term items could also include, the school district you are bound to, whether the area is prone to flooding and even smell or noise pollution levels. 
7) Skipping Home Inspection
Any defects identified before you purchase can be reported to the seller for them to fix. I.e; wiring, plumbing or structural issues. Any defects you discover after your purchase will come out of your pockets. 
Alternatively, you may also accumulate a list of defects and use it to negotiate a lower price for your purchase and handle the repairs yourself. This is also advisable as sometimes, the landlord may use quick or cheap fixes to cover for the repairs; which you will have to account for anyways once the house breaks down again. 
8) Not reading & understanding the SPA before signing it
Credit:Makememe
You have paid your lawyer to draft the agreement. Please use their service to ensure you understand the ins and outs of the agreement. They are obligated to ensure you understand what you are signing. This will better help you know your rights and prevent unexpected disappointments in the future. 
9) Not storing your copy of the SPA & Loan Agreement
After signing the documents, later on you will receive a copy of these documents. Store them with utmost care as these documents will be used as a reference for any future transactions related to the house. 
Credit:Meme
Too many times we've heard of stories of homeowners who are left defenseless and without any say simply because they cannot locate these crucial pieces of papers. 
10) Not following up with your Banker & Lawyer
Yes, it is their job and duty to complete the remaining transactions until you receive your house keys. However, this doesn't mean that you can just play a waiting game until then. Checking in every once in awhile to monitoring progress is highly advised to stay abreast of things. We recommend you do this once every two weeks – you never know if things could go wrong. 
Still searching for your dream home? Visit https://www.hihomes.my/  to view over 4.2 Billion worth of property matched to your eligibility and budget.