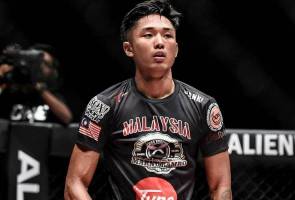 KUALA LUMPUR
: It has been a while since Malaysia's top flyweight talent Gianni Subba exhibited his prowess in the ONE Championship Circle.
Despite being out of action since March last year, the half-Malaysian, half-Nepali martial artist has used his time to perfection, improving as a martial artist through avenues such as coaching and commentating, which helps him stay close to the one thing he loves most.
"This year, I've been spending more time than ever in Bali since I'm not competing," he said.
"I've been working with the team more, and spending time developing myself as a coach. Besides that, I've also been doing a lot more commentating. I'm slowly building my resume outside of the ring."
Subba was offered the chance to commentate on a couple of Rich Franklin's ONE Warrior Series cards earlier this year, and he impressed on both occasions.
His big break came at ONE: FOR HONOR in Jakarta, Indonesia, in May. As expected, the Malaysian warrior did a great job breaking down the matches, analyzing every athlete's game plan, and explaining to the viewers what separated one opponent from another. On the ONE: CENTURY PART I and PART II prelims, he clicked with veteran commentator Steve Dawson.
Though being Circle-side has been a invaluable experience, his ultimate dream is to return to competition.
"I'm still staying focused. When I started in mixed martial arts, it was always to make myself a better athlete, a better person, and I think I'm still doing that," Subba said.
At present, the ONE flyweight division is stacked with athletes like Demetrious Johnson, Adriano Moraes, Danny Kingad, Tatsumitsu Wada, Kairat Akhmetov, and Geje Eustaquio.
The opportunity to share the stage once more with some of these guys is an opportunity he looks forward to.
"I haven't been able to compete, but I'm training and getting better. Hopefully, there'll be good news in December. I have my eyes on a couple of guys in the division. Failing which, I'm sure there are a lot of doors that I can open. We'll see!"