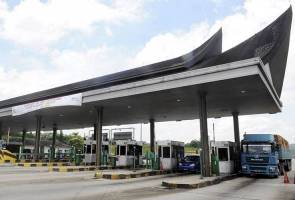 AND so … the drama over selling off PLUS Expressways Bhd is over – for an 18 per cent discount on toll
rates with a whopping 20-year extension on the concession. If there was anything to say about this, it shows that the government is helpless with negotiations when it comes to the tolls.
Which is quite surprising considering they are boasting cost savings of up to RM8.8 billion on the MRT2 project which is due completion in 2023, right before the next general election where they can boast about this again. The government says it saves RM42 billion from the deal with PLUS. Sounds amazing, but I have a few questions.
While the government saves, who pays? The government has negotiated that PLUS be allowed to collect
tolls until 2058 – which is another 38 years from now. As such, there will be no negotiation on toll rates or even the ability to make Malaysia toll free as the government promised.
Perhaps the Works Minister would like to clarify – how much would Malaysians actually be paying with
an 18 percent discount, without the ability of government to negotiate concessions for another 20 years?
In fact, how efficient will these highways be in another 20 years with the boom in the number of cars
on the road? Is it not already reaching maximum capacity today during festive seasons to the point of being unable to cope?
Also, how much would it have saved government to not have to pay compensation and just let the toll
rates rise now until the renegotiation of toll rates in 2038? Or more importantly, how much can the government allow toll rates to rise to the point that the concession agreement ends by 2030 to coincide with their Shared Prosperity vision?
The truth is, this whole idea of making the highways free was a dumb one to start with. Instead, I believe the government should have let it run its course and then asked for an upgrade on the concession to include a congestion charge and emissions monitoring.
The ability to have cameras on highways monitoring emissions would then allow the policing of emissions
on cars and heavy vehicles on highways, which would be good both for the Ministry of Transport and the Ministry of Environment, Science, Technology and Climate Change (MESTECC).
In fact, looking at KL in the mornings these days, we can be sure it's not a haze from Indonesia – it's just rush hour traffic.
Yes, it would also mean that the government should allow toll rates to go higher to the point that people consider a GrabCar, a Degoride or just taking a bus and one of the trains to work.
That is exactly the point when we talk about reducing traffic.
And yes, it would mean that the cost of goods will go up. It would also mean employers will have to
adjust salaries and benefits to mirror that. And that would mean upgrading in their factory transport buses with black smoke, or even their cranes and cement trucks – which would mean you get the maintenance work increasing to cope with emission standards.
Subsequently, companies would also have to fork out more for services, services thrive and ask for
more vocational trainees to help with the maintenance works of heavy vehicles and cars, you get more people employed.
When you get more people employed, you boost the economy.
And that's how letting the toll rates rise and policing emissions end up boosting the economy, increasing
wages and benefits for employees, pushing people towards public transport or ride sharing, and even looking towards reducing household debt by no longer considering the need for a car.
With additional income going to the transport companies, government will also be able to reduce the
subsidies paid to the likes of Prasarana and KTM, or pay both to increase the capacity of their infrastructure through rolling stock and trains.
That will also increase employment for train drivers, bus drivers and also increased personnel on the
ground for both Prasarana and KTM.
You might even get Malaysians to walk more if it's anything like taking the MRT to get to Nu Sentral
and then switching over to the Monorail, thus needing station staff to guide tourists and maintain the congestion in the stations.
At the same time, with more people opting to walk from stations to their workplace, be ready to invest
in increasing infrastructure and pavements, thus allowing for more people to walk. More people walking would also mean zebra crossings, which would mean getting drivers to shift to giving way to pedestrians, thus creating a more caring society.
So instead, I'll ask this – since the government has said that it has saved RM42 billion by doing this
deal with PLUS and it will use that cast for "initiatives that will benefit the people" then how about you put the emission cameras in and around KL and industrial zones, and start policing emissions?
In fact, with the savings of such an amount, could we now start talking about MRT Line 3 and increasing
capacity for KTM's intercity and interstate ETS service to boost the rush during the festive seasons?
In the end, the goal must be to reduce traffic, reduce emissions, and start getting people in the Greater
Klang Valley on to the trains in order to continue growing.
You don't have to sell off the highways to do so. Just let them operate at whatever rates in the agreement and let Malaysians deal with it.
But of course, you would have the ire of the public aimed at the man who agreed to these deals in the
first place.