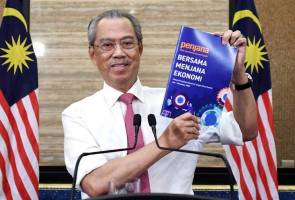 PUTRAJAYA
: The government on Friday announced grants and loans totalling RM700 million to small and medium-sized enterprises (SMEs) and mid-level companies.
Prime Minister Tan Sri Muhyiddin Yassin said this was to enable more SME companies to subscribe to or use services related to digitalization of businesses.
"These include the first: RM100 million SME Digital Matching Grants to be provided in collaboration with telecommunication companies; and second: RM500 million under the SME Technology Transformation Fund as a simple loan.
"Third: A RM100 million Smart Automation Grant, where every eligible company receives a grant of up to RM1 million," he said in his special address on the Special Short-term Economic Recovery Plan (ERP) here on Friday.
In an effort to encourage micro-enterprises and SMEs to move to digital or online services, he said the government and the private sector would also finance the effort through a matching grant of RM140 million.
The allocation will be used for training sessions, vendor subsidies and sales assistance, he said.
Muhyiddin said the initiative would be spearheaded by the Malaysian Digital Economic Corporation (MDEC) with selected e-commerce platforms.
In addition, he said, the banking sector is also offering an additional RM2 billion through the PENJANA Financing Scheme for SMEs in order to help the sustainability of SMEs involved in key targeted sectors.
He said the financing could be applied from mid-June with a limit of up to RM500,000 per SME.