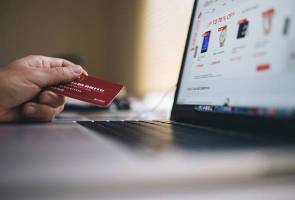 KUALA LUMPUR
: Going into the fourth day of the Movement Control Order (MCO),  more people now seem to have grasped that it means they have to limit their movements outside the home and have opted for online shopping.
Civil servant Siti Munirah Abdul Manaf said there are many online sites one can buy goods from, such as Shopee, Tesco Online, Happy Fresh, Jaya Grocer, Lalamove and BIGBoxAsia applications.
She said as a working single mother with three children, she did not have the luxury of going shopping, especially with the spread of the COVID-19 pandemic and the MCO which will last until March 31.
"I don't want to go to crowded places to buy essential items and perishable goods…so I just buy from Tesco online. If there is something I need but it is not on Tesco, I try to look for it at Shopee.
"For perishable items like vegetables, fish and chicken, I buy online at Happy Fresh or use the delivery service advertised on the websites," she told Bernama as she shared her experience of shopping for essential goods during the MCO.
Teacher Abdul Hakim Manaf has also opted for online shopping which he says is much easier for him as his purchases are delivered to his home.
"I live in an apartment on the 13th floor. It is not convenient for me to keep going out to shop and carry my purchases back home, especially during the MCO period when movement is limited.
"I do not want to take the risk of being exposed to a COVID-19 infection, I prefer to shop online and wait for the goods to be delivered to my doorstep," he said.
For first-time online shopper Hazrini Daud, buying foodstuff online has made life so much easier.
"I just buy one day before, and then the next day, the goods arrive at my house, and I pay upon delivery," she said.
Meanwhile, Atikah Eqah said with the COVID-19 pandemic, it was safer to shop online as she does not have to go out and risk getting infected.
Relating his experience, Facebook user Akmal Ahmad said he had gone out to the supermarket yesterday but was alarmed when he saw people walking about without masks.
"I changed my mind then and decided to go home and shop online," he said.
Of late, online shopping sites have seen a surge in consumer buying as more people opt for buying goods online due to the COVID-19 pandemic.
— BERNAMA