KUALA LUMPUR
: Think of the last time when you discarded that pile of shirts and dresses you have outgrown. Where did you dispose of them?
Did you shove the clothes out with the rest of your garbage? Or were they nicely folded and boxed in a room, in hopes that you might find a use for them again? And do you know what happens to fabric when kept for a long period of time without use?
These are the questions Kloth Cares hope to raise in efforts to reduce fabric waste.
Founded in 2013, the Kuala Lumpur-based social enterprise fronted by Nik Suzila Hassan and Sarahan Kedah is on a mission to keep fabric and plastics away from landfills, through a circular economy business model.
Around 20 percent of global production waste comes from textile and apparel – a figure that compelled the pair to do something.  "We realise there is no fabric movement. You have the plastic movement but not for textiles. So we want to be the first," says Nik Suzila.
The apparel industry is also among the top contributors to global warming – the majority of polyesters are not biodegradable. Nylon can take up to fifty years to decompose, releasing harmful greenhouse gasses, like methane, in the process.
"The youth are major consumers for fast-fashion and the fashion industry is the second largest polluter after oil and gas. We feel that this news is not cascaded down."
AN 'ACCIDENTAL' MOVEMENT
The women, who goes by Suzy and Sarah, founded Kloth Care by 'accident'. "We were both bored with our corporate jobs and one day, while attending a conference, we found out about scarf materials made out of plastics! That was when we started Green Hijab."
Green Hijab, which manufactures eco-friendly scarves by turning plastic bottles into fabric, caught the attention of a major fashion retailer.
"Shortly after that, we were approached by Guess US for a 'Denim for Denim' campaign. We then worked with Lot 10 Shopping Mall for a recycling campaign. Soon, everything started rolling out for us really quickly," says Suzy.
In February 2017, Kloth Cares took their fabric movement to a wider scale by introducing fabric bins. The pair partnered with the Selangor Youth Community and Life Line Clothing for that initiative. "We offer bin adoption programs to corporates, higher learning institutions, NGOs, mosques and churches. Currently, over 300 bins are stationed all over the Klang Valley."
Suzy also emphasises that the team ensures collection and maintenance of the bins. "We are not like those recycle bins that are unmanaged and usually left at the side (of the road). We collect and make sure every bin is properly maintained."
"When we collect, we are able to tell how many kilograms are collected." Kloth Cares runs a buy-back programme whereby participants receive 10 cents for every kilogram of fabric collected.
Today, Kloth Cares collects up to 30,000 kilograms of fabric every month through partnerships with organisations like Bursa Malaysia, Sime Darby Plantations, Sunway Putra Mall and Bioeconomy Corporations.
"Once the fabric goes into our bins, they will be picked up by trucks," she adds. The bin collection schedule depends on the usage. "If the bin gets full within a month, it will be a once a month collection. If it is full within a week, we collect weekly.
"The bins are sent to a factory in Port Klang that is the size of four football fields. This is where the clothes get weighed.
"The clothes are then placed on a conveyor belt where they will be sorted into more than 400 categories – pants, long pants, jeans with pockets, without pockets, long sleeve shirts, short sleeve shirts, for instance.
"Then, the clothes will be sorted according to grades. The first grade comprises wearable ones. They will be donated to charitable organisations or exported to countries like Pakistan or Bangladesh.
"The second grade is cotton fabric that can be used in the industrial wiping cloth sector. The third grade are scraps, which are processed and turned into (refuse derived) fuel," says Sarah.
Some 300 workers are employed at the Port Klang factory, run by a separate organisation. Sarah says the factory also has a section catered to repairing faulty clothings such as missing buttons and broken zips. They are repaired and redistributed.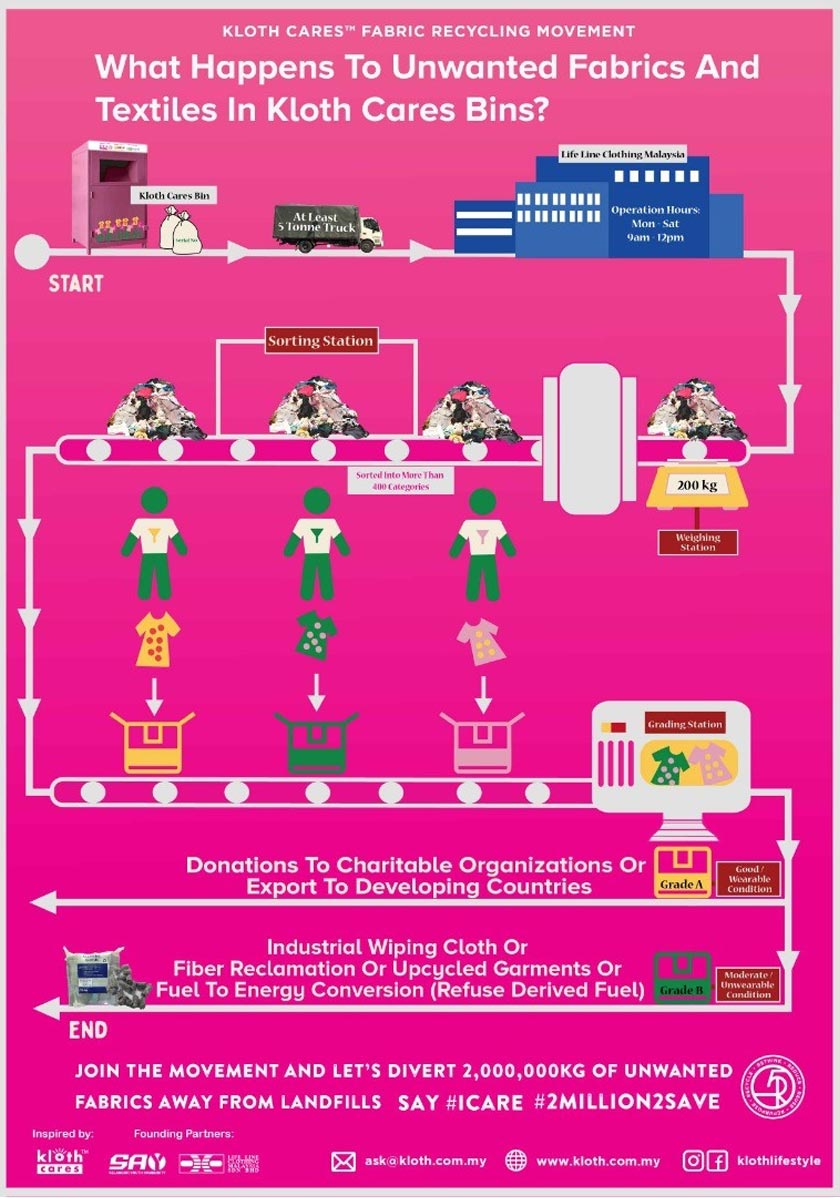 In 2018, the Solid Waste Management and Public Cleaning Corporation (SWCorp) reported that Malaysians threw out over 195 million kilograms of fabric a year, underscoring the urgency to bring greater awareness on fabric waste to the public.
"For us, waste is wealth. People don't see this as a viable business. Many people see recycling fabric as 'clothes going to orphanages '. But you can earn up to thousands of ringgit a month from this business," says Suzy.
FRIENDSHIP AND BUSINESS
Suzy and Sarah met each other at college and have remained close. Prior to finding their passion in reducing waste, Suzy was an accountant in a government-linked company while Suzy built a career in marketing and media sales.
"Every time we go out, we make each other promise not to talk about work!" Sarah says with a laugh. Both agree that like many Malaysians, they were unaware of the detrimental impact of fabric waste. They did not grow up in an environment that practiced 'living sustainably'.
"I wasn't aware," says Sarah. "I had an idea of what it was about only because I was working in the media industry," echoes Suzy.
"But things have changed for us, for sure. We are now trying hard to get our families and friends to live sustainably," adds Sarah.
When asked about the sustainability of the social enterprise, the women feel that they have succeeded in starting a conversation about fabric waste. They would like to step back from the driver's seat at Kloth Care to focus on bigger things.
"It's not about us, it's a movement," says Suzy. The hope to inspire the next generation to take up the mantle and have already identified potential candidates to take over their role.
"No, we're not going to end Kloth Cares but we are going to step down. We want to find younger people to take over and continue this movement."
"We are fans of Amancio Ortega (of Spanish retailer Inditex that owns Zara). He doesn't show his face. It's not about the glamour. It's about letting go. It's about mentoring the younger generation and moving on to the next big thing," says Suzy.