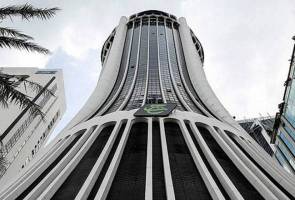 KUALA LUMPUR
: Tabung Haji's announcement of an income distribution of 3.05 per cent proves that the pilgrims fund has remained prudent in its investment decisions in order to achieve an optimum return of investment.
Bank Islam Malaysia Bhd's chief economist Dr Mohd Afzanizam Abdul Rashid said TH performed well last year, despite the challenging global economic environment due to the trade war between the United States and China, as well as the rising protectionism among certain countries.
"The income distribution of 3.05 per cent is certainly high compared with the 1.25 per cent in the previous year.
"Last year, the investment environment was affected by the United Kingdom's Brexit, the volatile oil market and geopolitical factors," he said, adding that TH's fixed income investment assets accounted for 58 per cent of its total profits.
Speaking to Bernama today, he said TH's move to focus on low-risk investment assets had paid off.
Moving forward, Mohd Afzanizam said depositors should be realistic in their expectations for the 2020 income distribution due to the uncertainties in the global economy following the COVID-19 pandemic and the falling global crude oil prices.
"These factors have resulted in a highly volatile global and domestic money market," he said.
Meanwhile, Kenanga Investment Bank Bhd's head of economic research Wan Suhaimie Wan Mohd Saidie said that the profit distribution showed that TH's investment team had been working very hard to ensure decent returns for investors despite the challenging market condition last year.
"I think this year would be a more challenging year for all money managers. Hopefully next year's return on investment would be better.
"It all depends on how the government manages the situation. That is why, in the case of Malaysia, political stability is crucial," he added.
TH has announced a profit distribution after zakat (tithe) of 3.05 per cent for the 2019 financial year (FY19), with a payout totalling RM2.1 billion compared with RM913 million distributed in FY18.
In a statement today, TH attributed the improvement in its financial performance to sustainable investments and prudent cost management, which led to the substantial growth in profit distribution compared to the previous year.
The pilgrimage fund said its income from investments stood at RM3.3 billion; RM1.2 billion of which was generated in the fourth quarter.
"Overall, the income from TH's investments is more stable, with fixed income investment assets accounting for 58 per cent or RM1.9 billion of the profits, while real property and equity investments, as well as Islamic money market instruments contributed RM500 million (15 per cent), RM500 million (15 per cent) and RM400 million (12 per cent) respectively," said TH.
— BERNAMA