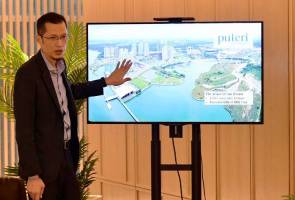 KUALA LUMPUR
: UEM Sunrise Berhad ("UEM Sunrise" or the "Company") announced its financial results for the six months ended 30 June 2019 ("1H 2019") where total revenue increased to RM1,419.8 million compared to RM861.1 million in the first half of 2018 ("1H 2018") mainly driven by the completion and settlement of Aurora Melbourne Central's separable portions ("SP") SP3 and SP4 and Conservatory's SP1, SP2 and SP3 in Melbourne, Australia. Excluding a one-off impairment of RM37.3 million, profit after tax and non-controlling interests stood at RM107.8 million for the period.
In absence of significant earnings contribution from land sales in this period compared to 1H 2018 amounting to RM207.3 million, property development earnings contribution improved from RM41.2 million to RM107.8 million.
Property development activities contributed 95% of the Company's total revenue, with 73% from international projects mainly Aurora Melbourne Central and Conservatory followed by 15% from Central: Sefina Residences in Mont'Kiara, Symphony Hills in Cyberjaya and Serene Heights Bangi. The remaining 13% was from the Southern region largely from Serimbun, Almas@Puteri Harbour and Aspira LakeHomes, in Iskandar Puteri. As at 30 June 2019, the Company's unbilled sales stood at RM2.6 billion.
Property development sales for 1H 2019 was RM532.0 million; 52% contributed by the Central region mainly from Symphony Hills, Residensi Astrea in Mont'Kiara and Serene Heights Bangi whilst 44% was from the Southern region largely from Aspira ParkHomes, Almas@Puteri Harbour and Denai Nusantara.
To-date, the Company has launched properties with a total Gross Development Value ("GDV") of RM249.3 million comprising mid-market double storey terrace homes; Serene Heights Bangi's Dahlia phase 2 in May 2019 and Aspira ParkHomes' phases 1 and 2 in January and June 2019, respectively.
Anwar Syahrin Abdul Ajib, Managing Director/Chief Executive Officer of UEM Sunrise said, ". The successful completion of Aurora Melbourne Central, with a total GDV of AUD750 million, as well as the positive settlement of its SP3 and SP4, which today stands at 99%, is evidence that the decision to venture into Australia, our maiden international foray, was one of the Company's best decisions. SP5 is expected to be handed over for settlement in October 2019. For the AUD322 million Conservatory, the settlement rate to-date is 78%. In relation to Mayfair, we have decided to divest the site to realise its immediate potential value. The proposal has garnered interest from several potential buyers and we plan to complete the transaction before year end. We have made it our top priority to inform our buyers of the decision and will terminate the sale and purchase agreements as well as refund the deposits plus interest accordingly".
On the Company's sales status, "Our participation in the Home Ownership Campaign 2019 has been positive for Serene Heights Bangi, Serimbun, Aspira LakeHomes and Aspira ParkHomes. Our inventory monetisation efforts are also on track considering that 35% of our sales for the period was from completed properties. In terms of new launches, the bulk of the sales was from Aspira ParkHomes, located near the Gerbang Nusajaya Interchange which connects to the Linkedua Expressway and Tuas, Singapore. Phase 1 is 74% to-date while phase 2 take-up is 58%. We are also on track to unveil our prized Kepong Metropolitan development, namely Kiara Bay, in 4Q 2019 where we plan to launch two residential blocks and retail at an estimated GDV of RM656.0 million".
Kiara Bay is an integrated mixed residential, commercial and retail development designed to have a contemporary look and feel and lifestyle concept with excellent connectivity to attract a new generation of homeowners. At 72 acres with a total GDV of RM15 billion to be developed over 15 years, Kiara Bay will aim to repeat the success of Mont'Kiara and become KL's new heartbeat.
He added, "Our asset divestment and land portfolio rebalancing strategies are ongoing. We also continue to consolidate our margins through smart spending initiatives, project cost savings and containment of operational overheads. We are also mindful of the challenging market environment and remain prudent in our GDV and sales target of RM1.2 billion each".