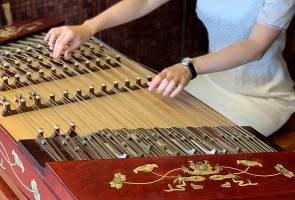 HONG KONG
: This month, Channel 501
Astro AWANI
, brings you the best of Hong Kong on Arrivals with Ibrahim Sani. In this two part series, we explore the great charm of Old Town Central's Street Art.
You will see a dazzling fusion of quirky artistic landmarks, rows and rows of galleries that will invite you to the different worlds of art and science, drawing influence from both the western and eastern cultures, melding it together to make that of the world-famous Hong Kong identity.
Follow us to sky100 Hong Kong Observation Deck located at Hong Kong's tallest building where you can enjoy a 360-view of the Victoria Harbour, Hong Kong Island, Kowloon Peninsula, and the New Territories.
After that, head to the Tai Kwun Centre for Heritage and Arts to be inspired and stimulated by the arts and culture scene in Hong Kong.
Fancy an evening light show? Then you should not miss the famous A Symphony of Lights show. Get up close to the spectacular light show when you board the Hong Kong's Iconic Junk Boat.
Ask anyone on the planet about an image associated with Hong Kong, and the traditional Chinese junk boat comes to mind.
No trip to Hong Kong can be complete without taking the Aqua Luna junk boat ride. Enjoy the breeze of the Victoria Harbour as the ship unfurls its sails to display the magnificent Chinese icon from the Ming dynasty.
Read: Five things to enjoy if you want a culturally immersive holiday in Hong Kong
You can board the Aqua Luna at Tsim Sha Tsui Public Pier 1, which is next to Tsim Sha Tsui Star Ferry Pier in front of the Hong Kong Cultural Centre, and you can alight at the same pier after the boat ride.
For the Muslim traveler, we head to Kowloon Mosque and speak to the Grand Mufti of Hong Kong. There, Imam Muhammad Arshad shares with us his thoughts on the development of the Muslim community in this island territory.
Also, we head to various Muslim restaurants, such as Ma's Restaurant, to try out the authentic halal eateries here in Hong Kong.
In case you missed the televised of the two special episodes, watch it online at these links: "Arrivals: Hong Kong's Muslim Trip" and "Arrivals: Hong Kong's Cultural Trip".
Read: Five things to enjoy if you want to have a wholesome Muslim-oriented holiday in Hong Kong